How to Build your Email List Organically
Learning how to build your email list organically could be one of the most sensible things you do. Although it requires a lot of hard work and time, the benefits mean that you could have free marketing. The other option is paying for email leads using Facebook Advertising, using other PPC methods and hosting events where you collect emails. The main aim of email list building is for two reasons. One, you gain more control over how you communicate with your leads. Two, you're able to provide value for free or for a fee. This article will focus on what you need to do to grow your list over time for free.
Building your email list organically has a direct correlation to high-quality consistently published content. The further and wider this is re-distributed on different platforms the better. However, there needs to be a facility on your website that encourages people to sign up to your email list. This is where email pop-ups or opt-in bars come into play. You also want to create an irresistible offer to your audience, for free, that encourages them to exchange their email information for it.
Create and Publish Content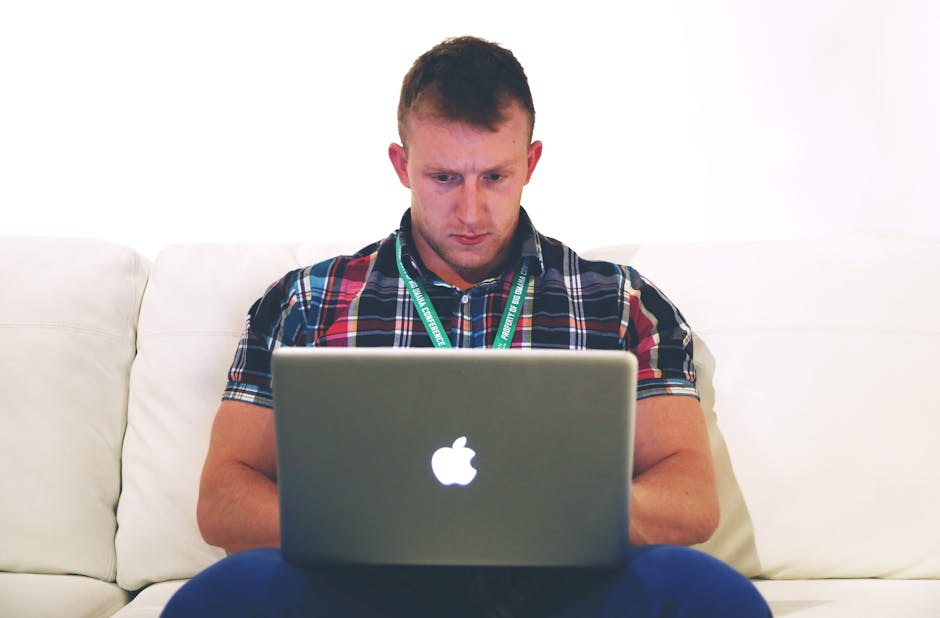 The success of many businesses is dependent upon how you communicate to your ideal client. This comes in many different ways, however, usually, it's about displaying how much value you have. Value is defined by how you demonstrate to them your usefulness and ability to solve specialist problems. This can be demonstrated in one-to-one negotiations, work presentations, Facebooks Ads or free content via YouTube. Whatever platform it is, it is about communicating a message of value. When you show your usefulness, you attract interested people to you. This is why you need to produce a lot of different types of content frequently for your audience. The more high-quality content you produce on a frequent basis, the better. This content needs to be SEO friendly or targeted so you are not wasting your efforts. This is why initial customer research is key, so you can be intelligent with your content creation choices.
Increase Traffic to your site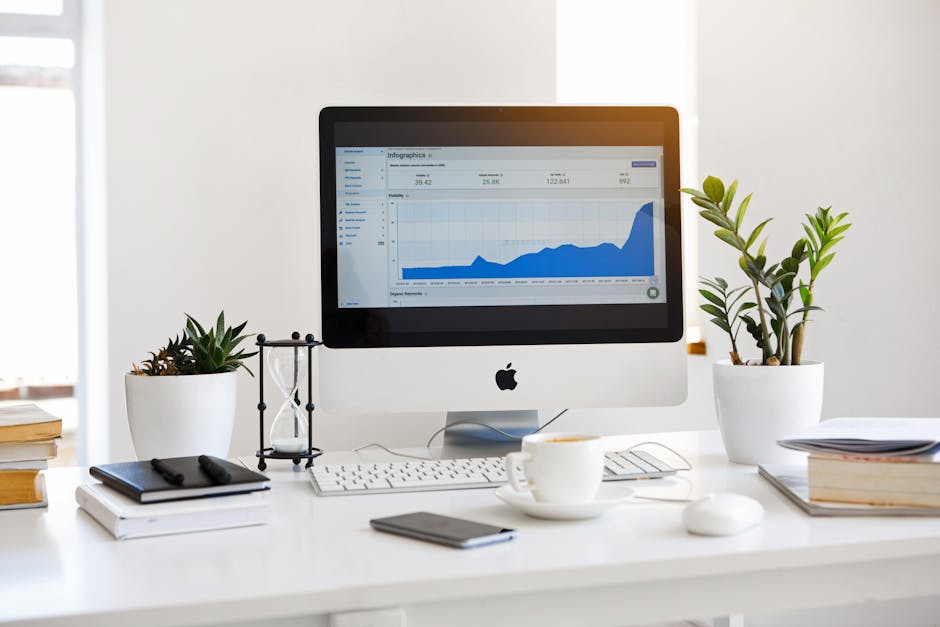 Creating and publishing content regularly will inevitably increase the traffic to your site. To confirm this, you need to make sure you have the Google Analytics script embedded in your website's header code. You can also use a Facebook Pixel to track this information also. There you will see what posts increase traffic and what you should be focusing on. This also applies to platforms like YouTube and some social media platforms. Check the analytics to get an understanding of what you need to focus on. The aim should be to increase traffic to your site, increase duration on your site, and reduce the bounce rate on your website. The bounce rate is the percentage of people who come to one page on your site without going to another page. This will all improve by making sure your content is on point and embedded with useful internal links! But, I admit there are other functionalities and designs that will help improve these metrics also.
Add a Pop-up
Now that you're developing great content, it would be a good idea to add a pop-up to your website. Some people do not like the idea of pop-ups, but they work. They only work if you have enough traffic to your website, the content is targeted and you have an irresistible offer developed. The pop-up can appear under many different conditions such as:
Just before someone is about to exit the screen
5 Seconds upon visiting your website
Specific to a type of content being viewed
Only specific URLs
In my opinion, the first and second last one works well and appears to be the industry standard.
MailChimp
Autoresponders are emailing software that allows you to organise and send out emails to a large group of people. MailChimp is an autoresponder that is free to use for the first 2,000 subscribers and first 12,000 emails per month. You can Add a pop-up to your website using MailChimp. Assuming you have created an email list for subscribers that have come from your website, you need to do the following:
Sign into MailChimp using your username and password
Click on the Lists tab
Select Sign up forms
Choose the option Subscriber pop-up
Determine all your Design, Field and Content settings on the right-hand side
Use a compelling image and call-to-action text for your pop-up
Once complete press the Generate code button
Copy the code and log into WordPress
Go to Plugins, Add Plugin, search for Insert Headers and Footers and download the plugin
Find the plugin, select it on the left-hand pane and paste the code into the Header section and press save
And that's it! Very simple to do, and it's for free.
MailMunch Plugin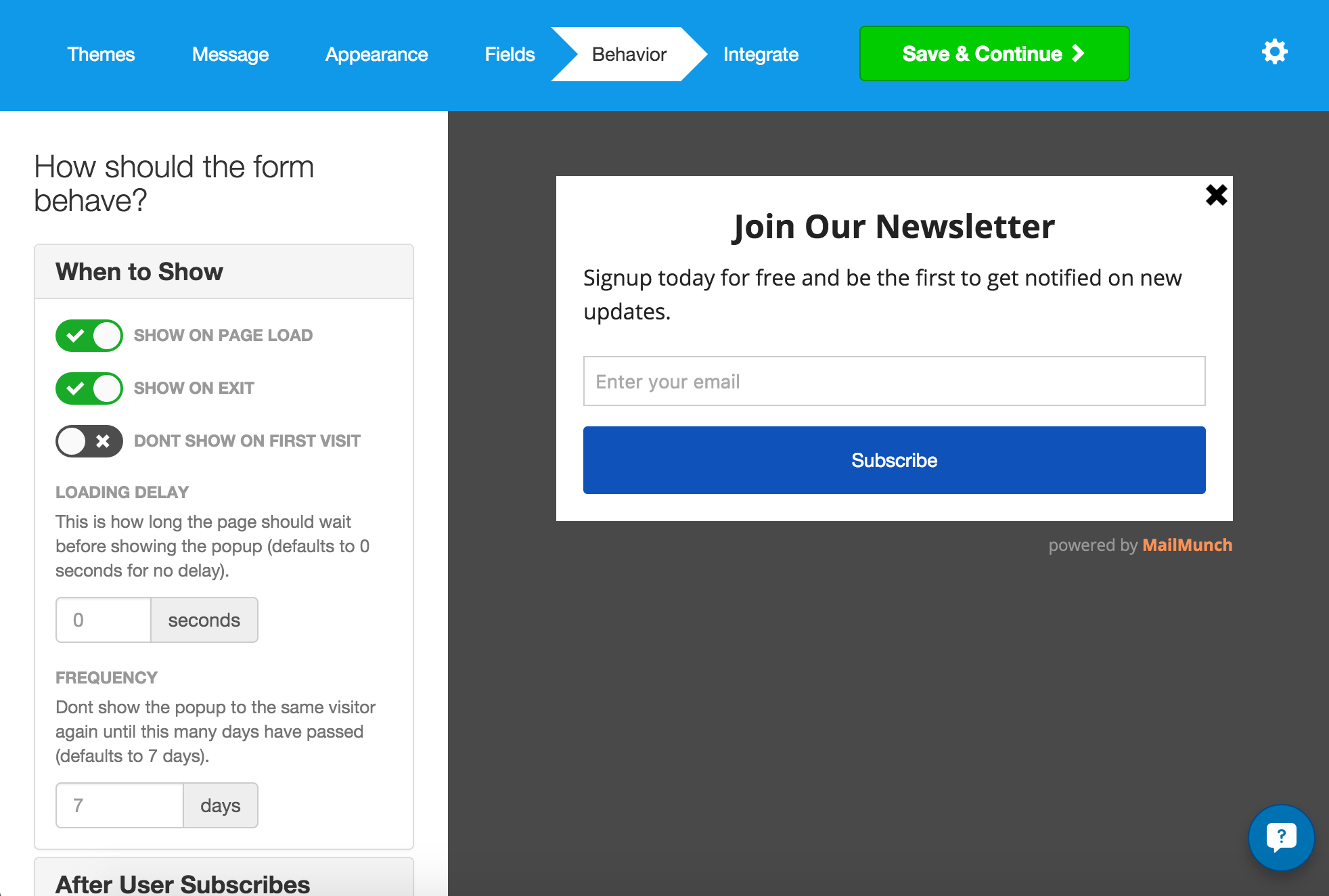 You can also use the MailMunch plugin for free to create a pop-up for you on your website. Here's how you do it:
Go to Plugins, Add plugin and search for MailMunch and download it
Click on the MailMunch icon on the left-hand side and go to Forms, New Forms
Select the type of form, in this instance, it will be Popover
Under themes select the Simple theme (the first one)
For your Message, I would suggest you create a complete message and image on Canva and add it to the description. Make sure the message is GDPR compliant i.e. lets people know what they are signing for transparently. For the Thank you message you could do a simple "Thank you for signing up" with a possible call-to-action
From Appearance to Behaviour, select the options based on your preferences
At Integrate, connect your MailChimp to MailMunch by signing in and selecting the list you want subscribers to go to. You can also create tags to help you identify these type of subscribers in your MailChimp dashboard
Press Publish Form, Activate Form, and Finish. A pop-up box will appear. Select Not Now
Now you have a pop-up setup on your WordPress website. This is the method I use. It's very simple and easy to set up.
Next Steps
This will not work if you do not produce high-quality content overtime on a frequent basis. It will also not work if you do not track what works and what doesn't, so be prepared to test your pop-up with different offers, images, styles and messages. You can also add other ways for people to opt-in to your email lists such as a bottom or top bar. Since writing this post I have set this to permanent to remind people to opt-in. But again it is something I am testing continuously.
Other platforms
As you continue to publish new content on your website, you may do so on other platforms like YouTube, SoundCloud or Instagram as an example. Make sure you give people the opportunity to opt-in to your email list there too. This can only be done by providing continuous value, and dropping your free offer every so often. The better your offer, and the well positioned it is, the more sign ups you will get.