How to Create WordPress Blogs from Scratch!
If you create WordPress blog from scratch it isn't as difficult as some people make it out to be. In fact, if you're skilled enough, you could build a WordPress site in 90 minutes! In this article, I am going to show you step-by-step how to build your WordPress website from scratch. This may make some web designers and coders nervous, but they too, more than anybody would know that the world is changing. WordPress is a free open-source content management system (CMS) which is used to host blogs and produce content online. To be clear, this article is not referring to WordPress.com which is the free hosted blogging platform that people can use. I am referring to WordPress.org, which requires a self-hosted platform and gives you more freedom to manage your website.
In summary, if you want to start a WordPress website you need to be able to decide on a domain name and buy it, accompanied with hosting and a Positive SSL. From there you can log into your c-panel hosting and install WordPress. Once signed into WordPress you can upload and configure a new theme and plugins, and begin producing content for your website.
Why WordPress?
WordPress websites make up just over a quarter of all websites online, which is phenomenal. That isn't a mistake and there is a valid reason for this. Here are some of those reasons:
It is free – WordPress is free to install once you have access to a c-panel account. This can be done by purchasing hosting for your website(s) i.e. the space you rent for putting up your website on the web. Hosting and other setups services can be as low as £25 per year.
It is very easy to install – There are no complications with installing and accessing your WordPress site. It takes no longer than 5 minutes to set up and you're good to go!
It is easy to use – The reason why so many brands are using WordPress is that it is easy to use. It is supported by so many companies and PHP/MySQL engineers that focus on making the user-interface easy. WordPress themes also allow you to use customise, and drop and drag capabilities when building your website such as with Gutenberg, Elementor, Divi Themes, Thrive themes, Page Builder by Site Origins and Visual Composer. Some of these solutions free and others are premium
It can be enhanced by plugins – If you want to enhance your websites ability to do a particular function, you need to install the right plugins. Plugins are extensions that use pre-developed snippets of code that perform specific functions. You can get plugins for security, SEO, load speed, social media marketing and many more. Although plugins can provide a lot of value, it's best not to install too many as it could slow down your site or cause it not to load; no more than 15 – 20 at absolute max!!
It is highly secure and updated – due to its open-source capabilities, there are many contributors to improving the security of WordPress. This is a reason why you may get a lot of WordPress updates! With this in mind, it is also important to use a WordPress theme that keeps up to date with WordPress updates
It is SEO friendly and can be enhanced by plugins – WordPress is designed to be easy to use and SEO friendly, especially when enhanced by plugins. The market leader for doing this is Yoast SEO, which helps you improve the quality of your writing.
These solid reasons as to why you should use WordPress. Alternatively, there are other popular CMSs which include Wix and Square Space, which allow you to use drag and drop features to create beautiful websites. However, the SEO capabilities are incomparable compared to WordPress, which is key for getting targeted traffic on the internet. In addition, WordPress is big on security, a key factor in protecting your website.
Set up hosting and your domain name
Now let's get started! First off you need to create a domain name or URL for your website. This is the information that comes after the 'www.' in a web address. In addition, you need to also get hosting which is renting space online so that your website has the potential to get viewed. Throughout the years I've tried different hosting providers, and I must say I have been very impressed with Namecheap. This is because their interface is super easy to use, and their customer service has always been on point over the past 8 years. Their customer service is super responsive and extremely easy to use as it is chat based.
To start, I would do the following:
Go onto Namecheap.com and click on "Host your website" near the bottom or "Hosting" on the top primary menu.
You will get a selection of different hosting options. If you are just starting out and you'll be using your website for article writing then "Shared hosting" is an affordable and sensible option for you; I still use it to this day. Private hosting, however, is a preferred option as you are independent of other servers, meaning your website can load faster and more protected. Private hosting is more expensive and is not as commonly bought compare to shared hosting
Select the "Stellar" "Stellar Plus" or "Stellar Business" dependent upon your brand needs. Hosting is dependent upon the following:

Disk space – The amount of storage you have available for the hosting
Bandwidth – This describes the amount of website traffic your hosting package can handle i.e. the number of people it can process on your website at one time. It essentially affects speed and load time
How many websites you can have – The number amount of websites you host at one time
Where your hosting will be based – This is where your host centre will be based; it's best to stick with your country where possible
Other's accessories

Once complete you will be taken to another screen with domain options. If you are getting a new website domain select "Purchase a new domain." If you select "I want to get a FREE .website domain" your website would look like this www.yoururl.website
Search for a relevant domain name to you. For your domain name decide if you want to make it your name, or a word or phrase related to your niche. Many one-word domain names, especially under .com or .co.uk are gone. In this case, you'd have to bid for them at an expensive price or find a new one. It is advisable to get a .com or .co.uk. if you can
Press Continue
Check what is in your basket and determine whether you want to make monthly or yearly payments. In addition, put on the auto-renew feature because it is annoying when you have a website and one it's not viewable online!
Click on confirm order and create an account
Once you've created an account update all your account and billing details. Make your order and pay.
An alternative way to set up
You can also set up by looking for the domain name first by clicking on Domains > Domain Name Search, at the top on the primary menu. You would be able to easily search for and see what domain names are available. When you add a web domain to cart you'll also be able to get add-ons you would like such as:
Private email – info@yoururl.com as an example
Hosting options
Positive SSL – a certificate that verifies your website as safe and helps to boost your websites SEO rankings
Login into c-panel
You should get an email allowing you to verify your account. Also, check for another email that gives you your hosting details. Go to the c-panel URL provided and copy and paste your c-panel username and password. Keep this information safe at all times. Once you login in you'll get access to another screen, where you should scroll down to the "SOFTACULOUS APP INSTALLER" section. Click on WordPress and click on install now. You'll be taken to a new screen where you need to fill in all the relevant details i.e.
Choose your protocol from the dropdown i.e. https://
Domain name
Blog name
Site description
Username for your WordPress login
Admin email
You also want to choose W3 cache a plugin that helps to improve speed over time – please also note this plugin has the potential to prevent your website from loading, especially if you have a lot of plugins installed! Only used it periodically and deactivate and delete it when not in use
And you want to choose a theme. t doesn't matter which one for now as you can easily change it later
Upon completion, you want to make sure you send the installation details to your preferred email address. Under the blue install button below, enter your email address where it says "Email instruction details to" and then click install. Wait for it to install and you should be good to go!
Installing WordPress
Go back to your emails and click on your WordPress link i.e. www.yoururl.com/wp-admin. Fill in your username and password and log in. And presto! You'll now be able to see your WordPress CMS!
You should be able to see a list of categories on the left-hand sidebar including:
Dashboard – Gives you a general update on your site with analytics and information WordPress. It's also a quick way to start a post!
Posts – This is where you can create posts and see you all the posts you have published, in draft, scheduled or deleted. You can also create categories which helps to structure your website for your users and for Google
Media – This houses all your media used for your website including videos, images and documents. It's important that you name media properly with the right and SEO relevant meta information
Pages – These are stand-alone web documents for your website usually an about page, contact us, landing page, privacy information etc.
Comments – This gives you access to all comments made and you can decide to approve or disapprove comments
Appearance – You can customise your website here such as your theme, headers and footers, your menu bars and any widgets used
Plugins – You will get a list of plugins that you are using, those that are active or inactive. You can also search for plugins here as well
Users – From here you'll be able to see what users you have such as Administrator, Editor, Author, Contributor, Subscriber and Super-Admin
Tools – You can use tools to import and export your website
Settings – And finally settings allows you to configure aspects of your site for easier use or visibility, dependent on your goals
Things to note:
To setup your website the right way you need to do the following:
Go to Settings > General and set it to the site language of your country. Then go to Settings > Permalinks and change the "Common settings" to the Post name. This will allow you to rank better on Google, and makes it clear what your webpage is about in the url i.e. www.yoururl.com/your-permalink-topic. It's always good practice to have hypens between words on your permalink, as well as making sure that it is not too long.
When installing a theme you need to Go to Appearance > Themes > Add new theme. Scroll through the free themes, pick one and install the theme. You can also buy themes from WordPress as well as other websites such as ThemeForest, which is where I have got a majority of my themes. Here's an example of a theme I have used in the past.
Make sure you read the documentation for any theme you choose before customising your website. Furthermore, you also want a good site that allows you to create and designs graphics and use good images. Check out Canva and Unsplash for these things.
Plugins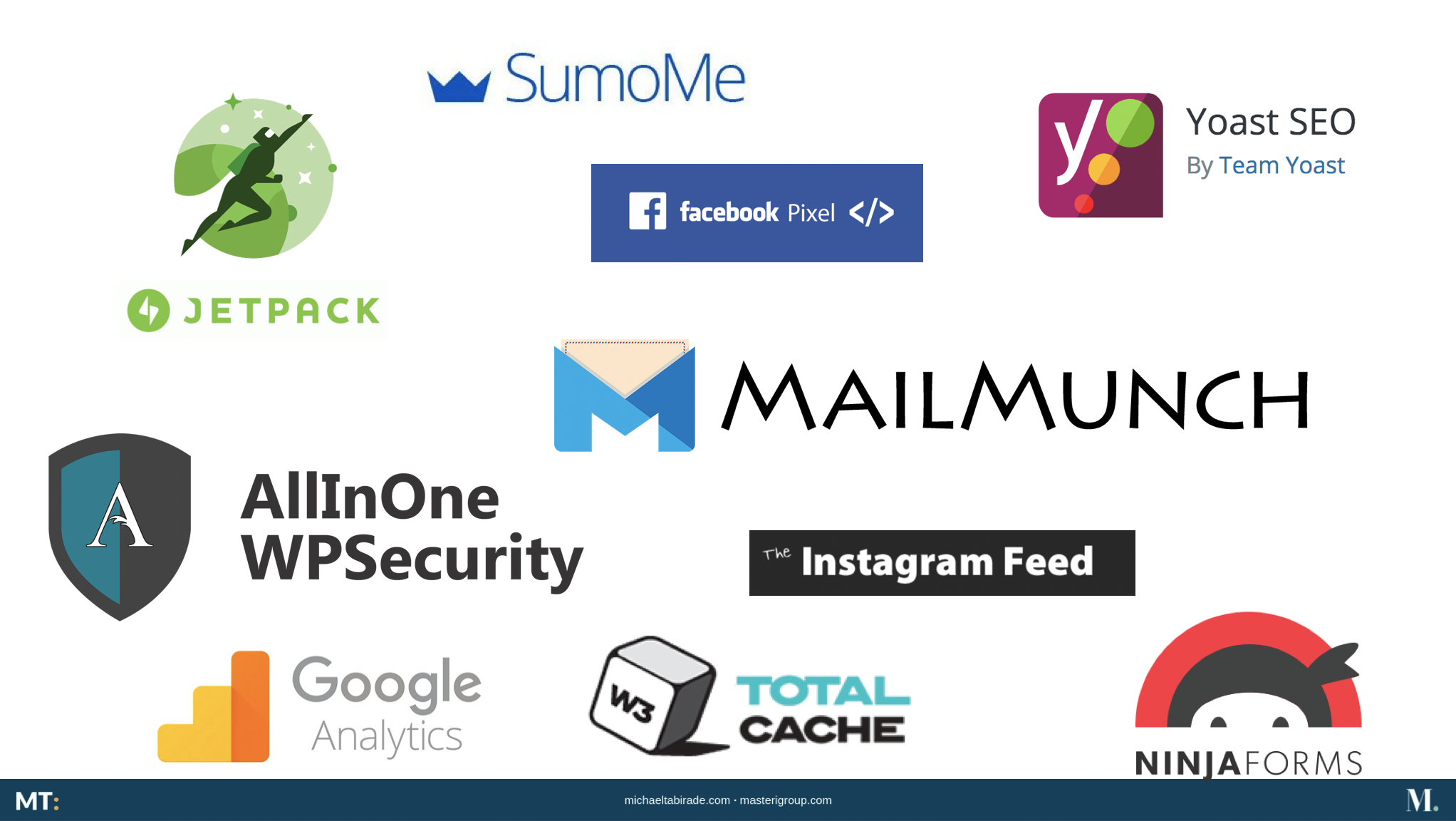 You also want to install plugins to help improve your sites functionality, security or marketing. Here are some examples of some plugins that may be useful for you.
All in One WP Security – Helps boost the security of your website
Coming Soon Page – Useful if your site is not ready for use
MailMunch – Helps to grow your email list with pops and sidebars
SumoMe – Great for multiple things including increasing shareability on your site
Yoast SEO – A must have plugin for help you improve your post readability and SEO; really good when accompanied by http://www.hemingwayapp.com 
Askimet Anti-Spam – prevents spamming to your website
Headers and Footers – This is great for allowing you to place Google Analytics and Facebook Pixel codes under your websites header code, so that you can analyse your websites traffic behaviour and make more intelligent decisions regarding your website
Conclusions
This article has given you the reasons why you need to create WordPress Blog, and why it's key to your success as a personal brand. It's relatively easy to do, and there are many tools used to help make your website searchable. I wouldn't delay, because people need to see what value you have to offer as a personal brand. You also need to think about your niche and what your audience wants before you start designing or developing your content. Here some additional articles that may help you:
Get started on building your website today with no delay!
*P.s. there are some affiliate links in this article so if you use any of them and make a purchase I will get a commission which helps me continue to do what I am doing for you online.