How to create an action log using Notion (Kanban style)
Before, I did a video on how to develop an action log in Excel. I thought it would make sense to do so on the productivity and organisation tool Notion. There are templates you can definitely access from Notion. But I thought it would make sense to also show beginners how they can create their own. You can also get a copy of the template below in the description.
It is more pivotal than ever to do this because distraction is a big part of our socioeconomic fabric. Many people are fighting for attention. When we have a simple system that leverages our thinking, we become more effective.
There are a lot of people who fail to reach their desired goals. Some see themselves as creative, or they don't have the energy to set up the system, or they think it is long. But the reality is, they will be the biggest losers when it comes to it in the end. All successful high performers developing their portfolio careers have a system in place. That's why they succeed. Here's a quote from Michael E Gerber, author of the E-myth.

Anyway, let's create a simple system to improve our effectiveness and productivity.
You will not succeed if you do not have a system. Simple.
The statement above may feel bold, but it's true. If you want something special in life, adopt systems. These are a series of intercalated routines. Here is what I will discuss:
The value of "Cards that you can see"
Using Notion to create your system
Getting the most out of your system
So with that said, let's get started!
The value of "Cards that you can see"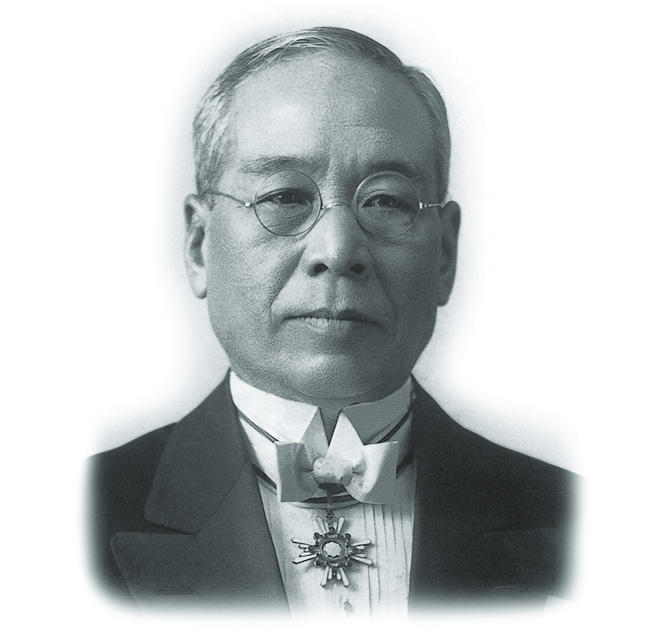 Kanban is a Japanese word that means a card you can see. Toyoda created this process for Toyota as part of their manufacturing process. It is now used for both personal and professional use.
As a seasoned career professional I have used it to help me and my teams to:
Develop better workflows
Improve inefficiencies
Identify progress to date
Determine urgency associated with each task.
This is a valuable process because of the following:
It is easy to setup
It helps identify when there is too much going on or if there is enough going on
You can collaborate with others using this process
It is very lean i.e. reduces waste, increases productivity etc.
You become focused
So now we have established the value of Kanban, let's get into the meat of the topic.
Using Notion to create your system
If you haven't used notion before, there are plenty of websites out there that explain how to use it. Notion themselves have great tutorials you can use. Make sure to sign up for an account; it's free and can be setup using a Google account.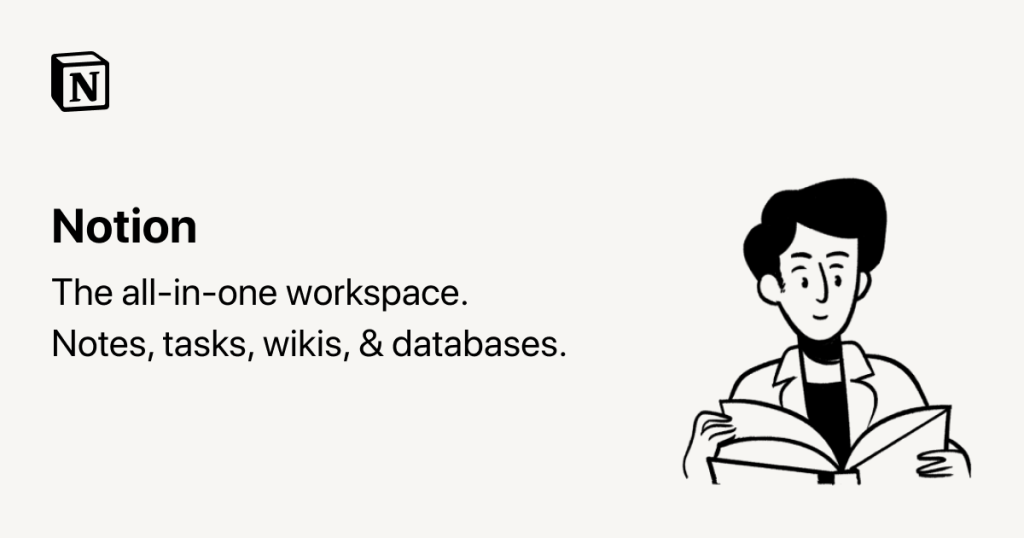 Once you have created an account and set up your profile. Do the following:
Create a new page in Notion. You can call it what you want i.e. actions, to-do, kanban board etc.
Create a new board by clicking on the board icon. A new menu will pop up, and at the bottom of it press 'new database'

You can also do this by pressing '/' and typing in board.

Title your board where the cursor encourages you to type a new title. It can be the same as your board name, i.e. Action log
You will see 3 columns labelled 'To-do,' 'In Progress' and 'Completed.'
You can edit and create the status options and customise them to 'Backlog,' 'To-do' and 'Doing,' 'Completed,' and 'Archive.' Do this by hovering to the left of the blue new button, and the ellipsis symbol will pop up.
Click on it and select properties > Group.
Click Group by and ensure it is on 'Status.' Also make sure that 'Status by' is on 'Option.' Finally, selected 'Sort' to 'Manual'
Next, go back and select 'Status*.'*
Next to each category title i.e. 'To-do,' 'In Progress' and 'Completed' press the plus sign to add new categories.
These new categories will turn into their own respective columns on the kanban board. You can create the following ones

Backlog (To-do item) is a long list of items
To-do (To-do item) the tasks not started for the week
Doing (In Progress item) is what is active now
Completed (Complete item) accomplished tasks
Archive (Complete item) is anything completed after 30 days

Once completed, in the same area i.e. properties > status, click on 'Show as' and change it to "Check mark." This will allow you to move activities to the completed column once check marked.

If the card does not move to completed, do the following:

Click the ellipsis button to the left of the blue 'New' button
Click Properties > Status, and swap the order of 'Archive' and 'Completed.'

Now think about some tasks you need to achieve and start adding them to the appropriate columns. You can do this by clicking the plus sign next to the column, or clicking on 'New +' at the bottom of each column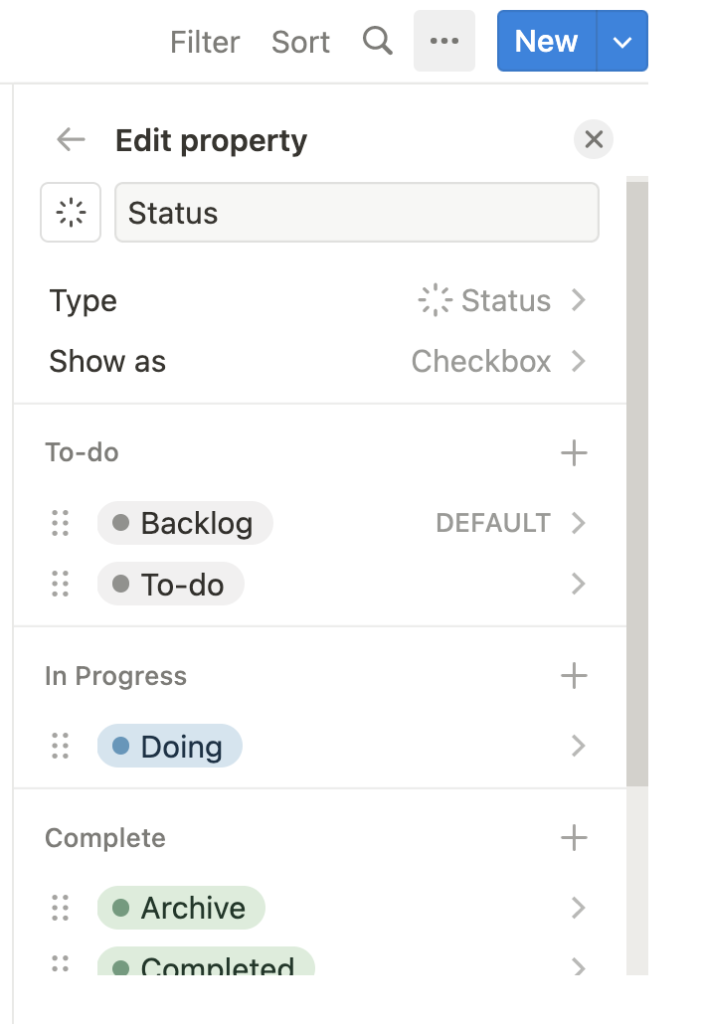 Next we are going to look at how we can get the most out of this system.
Getting the most out of your system
The beauty of Notion is that you can create nested and linked databases. This allows you to develop a robust system to help you better organise your thoughts and ideas. To do this on your Kanban board, you need to add some properties. Here's what you do:
Open a card that you have created, and create a date property. You can choose to have 'End date' included or decide to have 'Start date and Completed date'

This will help with the archiving option in the future. To do this you: click on a card > Add property > select 'Date' > rename the card to e.g. 'End date' and choose a date.
If you want to add an end date to this property, select the start date, and click on 'include end date.'
Select your anticipated end date

Next, create a tag property by clicking on Add property > select > rename to "Tag." The principles for creating these tags come from the Eisenhower matrix. This will determine the level of priority required to tackle the target. The options I usually create include:

Quick
Urgent
Planning
Schedule
Delegate
Automate
Priority 1
Priority 2
Priority 3
I developed a video on this, you can watch this video for more info: Eisenhower matrix | How to prioritize tasks effectively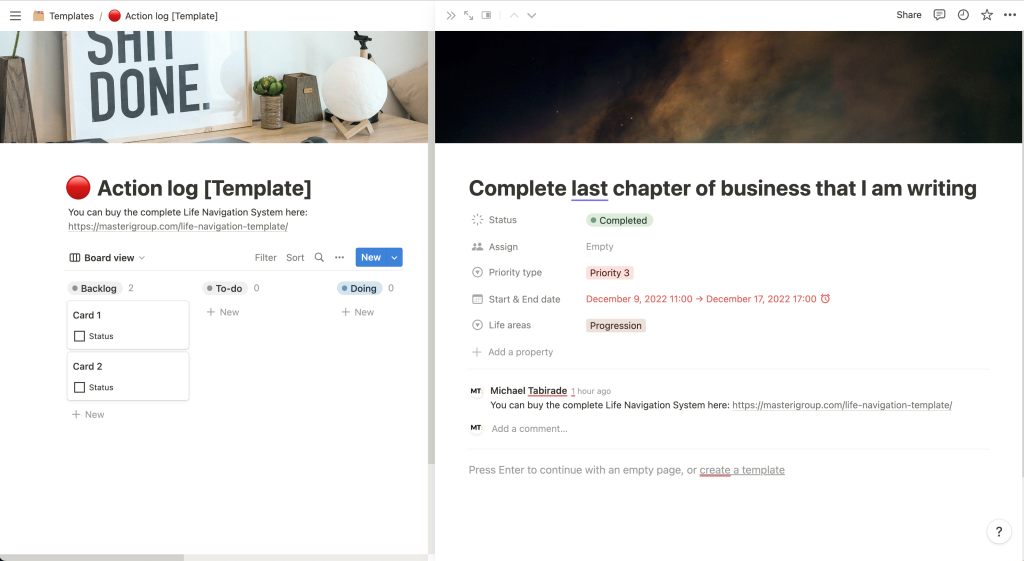 Create a property that categorizes the tasks or themes them such as life areas or project areas. This I will leave up to you to decide. You can base this on the wheel of life, or could be business focused areas; it is up to you.
At the top of the page card, there is a property labelled "Assigned to." Use this if you are sharing tasks for accountability purposes. I fill this out anyway to highlight accountability to myself.
You can also create more properties that you deem fit
When going back to the main board view you have the ability to sort and filter the database. So if you want to only highlight certain tags, categories or statuses, you can do so by using that function.
You can do this by clicking on:
Filter > select the property you want to filter > Type in the values you only want to see i.e. a word or select a condition. It should default to 'Name contains'.
You can also change the view of your board for ease i.e. timeline view, database view, calendar view etc.
The key takeaways are:
The kanban board process is a visual and systematic process. It helps you organise your tasks and enhances your efficiency.
Notion is a powerful tool. It is easy to learn, and you can create simple or dynamic systems
You can customize your board in a way that makes sense to you. As long as it is usable and does not overcomplicate the process.
Accountability is key to helping you stay disciplined and motivated towards your goal. As a believer of this I have created my own Life Management system that helps me stay on track. You can grab it here https://masterigroup.com/life-navigation-template/
If you like this video on this Kanban board, but you are still using excel, then you'll like this video here. How to use an action log in Excel
You can learn how to create a Kanban board on Trello here. How to create a kanban board with Trello | Productivity tools
Again you can grab my dynamic and comprehensive life navigation system here.
---
If you want I can help you in the following 3 ways:
Secure the Job: A step-by-step course that unveils systems and strategies for getting a new job.
The Independent Consultant UK: A guide to becoming a contractor in the UK. This is a step-by-step walkthrough of my experiences. It hosts exclusive information to help you transition into the space of contracting.
Book a call: Let's have a chat to focus on your life areas and where you can have the biggest impact. If it makes sense, we can progress towards procuring coaching or mentoring.
Build your portfolio career using systems intelligence & positive psychology.
Join other subscribers who get 1 practical tip every Sunday afternoon.
By entering your name and email address you agree to receive content and promotional offers centred around personal and professional development from Michael Tabirade. You can unsubscribe whenever you want to.